9 Ways to Add 2023's Color of the Year to Your Wardrobe!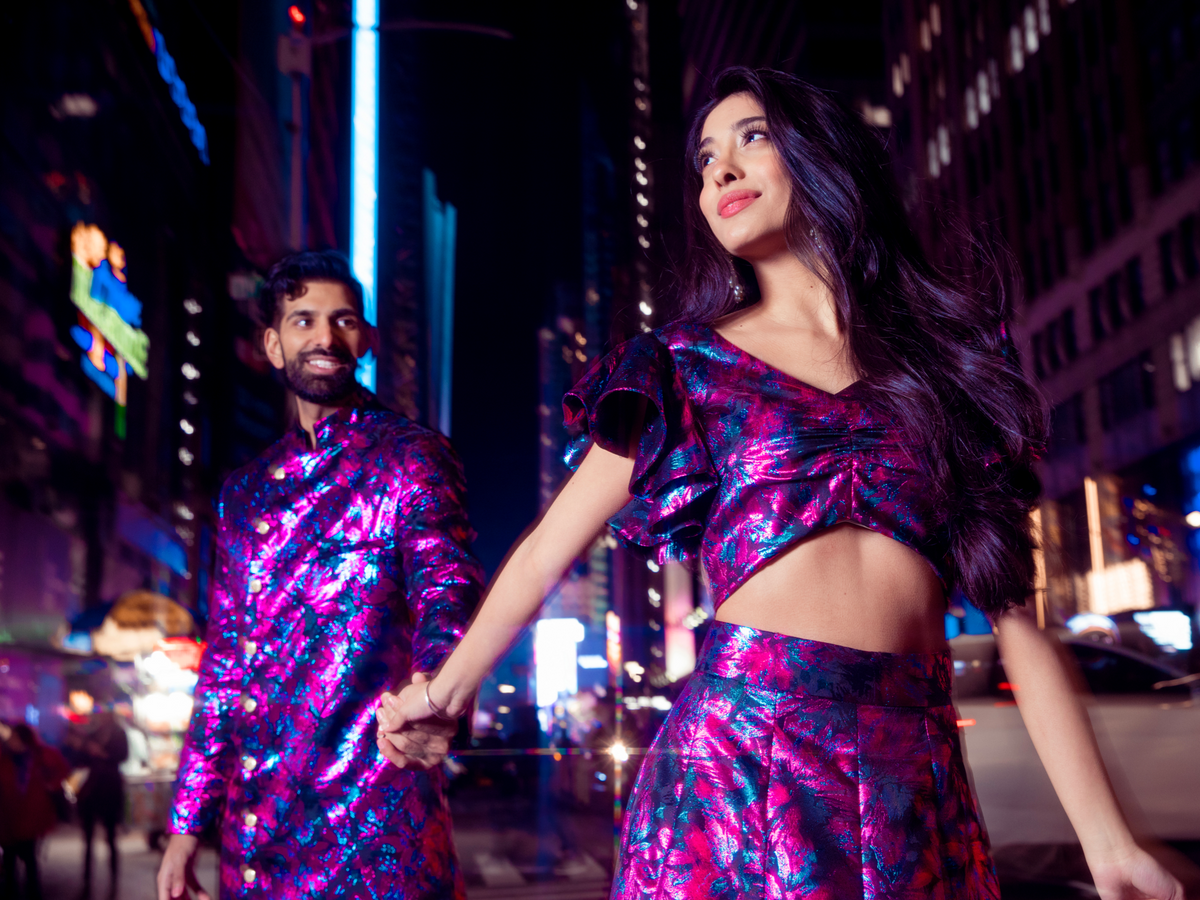 Every year, without fail, countless trend forecasting companies dub their new "IT" color of the year. If you subscribe to Pantone, you're ready for a fun, powerful year in Viva Magenta. If It's WGSN, it's living in an inclusive, calm, serene realm known as Digital Lavender all year long. But wondering how this boils down to you, wedding season, and your closet? Stick around as we select our faves to wear to a birthday, Indo-western wedding weekend, engagement party, and more all year long! 
What is Viva Magenta?
Think of that extroverted friend who gets every party started, that's viva magenta! Known for passion and romance, this gorgeous red pulls closer to a bold pink. After the last couple of years, we're ready for this lively, energetic, and bold hue to take over wedding season and every celebration. Scroll down for our magenta picks!
1. Weekend Glam in Sequins 
The week is over and it is time to relieve your stress with your favorite people! Get all glammed up in our sparkly one shoulder Barkha Top and Mayra Skirt! Dance the night away from a mehndi party to a birthday evening in these mix and match lehenga pieces.
2. Silk CIty 
KAIA Silk Crop Top & DIVYA Silk Skirt   
From mehndi parties, sangeet nights, or garbas, we know there's no short supply of a wedding fest. Explore our bold magenta silks to give you the effortless elegance for any pre-wedding ceremony. For a casual look, mix and match the Kaia Top with your favorite jeans, or the Divya Skirt with a comfy tee and you're ready for a Sunday brunch!
ARJUN Silk Bandi Vest & JEEVAN Silk Pant
Is your partner suggesting you wear a matching set? Explore the Arjun Vest or Jeevan Pants to elevate any kurta outfit, perfect for guest attire or family of the bride/groom looks! You can keep your casual look and be comfy! Looking for that last minute groom's outfit? Check out the Arun Sherwani and style with a floral pajama pant for the perfect pre-wedding look. 
3. Reception Night Florals 
ALEEZA Metallic Jacquard Floral Lehenga Top & Skirt 
There is no better way to celebrate your special day than matching outfits with your loved ones! If you are looking to match with your partner, get in vogue in our black and pink floral jacquards, the Aleeza Top, Tyra Skirt, and Vijay Sherwani. Perfect for all the insta pics! Looking for that perfect mommy & me outfit, or something for the youngest members of the family to run around in but you don't know their size? No problem, match it with adjustable KYLAH Tweed Kids Lehenga Top with  NYA Metallic Jacquard Kids Lehenga Skirt! 
4. Wine Down
SONALI Floral Jacquard Skirt & DITI Off the Shoulder Top
Looking for an outfit that will make you not stand out but also look unique? SONALI Floral Jacquard Skirt & DITI Off the Shoulder Top keeps you classy while giving it a special touch for Reception and Sangeet! 
Captivate everyone's attention with this floral sherwani jacket. Reception and Sangeet are all yours as you'll be able to dance comfortably and look elegant.
What is Digital Lavender? 
If your new year resolution is to bring balance and stability to your life, Digital Lavender is your color!  Representing wellness and self-care, Digital Lavender drives calmness & serenity. Basically, if Viva Magenta is an extrovert, Digital Lavender is an introverted-extrovert who loves a chill celebration. This gender-inclusive color is also perfect for matching outfits with your loved ones. Check out the list below to embrace your inner wellness! 
1. Ombré Silks
OLIVIA Metallic Ombre Dupatta Top & ZAINA Metallic Ombre Midi Lehenga Skirt 
This versatile matching lehenga will give you everything you need for a bridal mehendi or outdoor wedding ceremony! The added feel of a convertible dupatta allows you to keep the calmness while not feeling underdressed.
Share the effortless experience in the Saleem Sherwani, Nash Pants, or Namrit Jacket. 
2. Mermaid sequins 
GIANNA Mermaid Sequin Lehenga Top & NADIA Mint Metallic Jacquard Top
Invited to a wedding and don't know what to wear? Add a shimmery top to your outfit with glamorous earrings or dupatta! Keep it simple but fun.
For a matching kids lehenga, style the Yara Top with the Zaia Skirt for your little mermaid💜
Need a guy's outfit idea? Explore the Kona Vest, a metallic diamond jacquard vest with the perfect amount of bling for any event. 
3. Polka Dots 
ANISHA Polka-Hearts Skirt & ANNA Floral Off-the-Shoulder Top
After parties are all about comfort and beauty. Lightweight and breathable, our cotton polkadot skirt will keep you cool from 8am to 3am! (We know there's no such thing as a sleep schedule during an Indian wedding weekend, lol!)
Style with the Maria Top for a classic daytime outfit. Switch into the Anna Top, our off-the-shoulder petal top, for an evening look that will keep you dancing all night long!
Looking to match with a family member? Check out this classic print in the Ranja Kurta or kids Rian Kurta designed in comfortable, lightweight cottons! Top off any outfit and look like a royal in the Maharaja Turban. 
4. Wedding Ready in Spring Florals 
ANEELA Lavender Floral Lehenga Skirt & SONIA Lavender Jacquard Top
Whether you're a wedding guest, or a couple looking for the perfect wedding weekend outfits, we know shaadi season can require a whole wardrobe.
For a bridal pick, pair the Ariana Skirt & off-the-shoulder Diti Top together for a beautiful floral pastel look, and then mix and match for wedding season's to come. For the groom, complement your stunning partner in the Lane Sherwani.
Lined in satin with the perfect gold details, both looks will make you shine for a Spring day or night. Perfect for celebrating and dancing any occasion away!
For guest attire, mix and match the lavender Aneela Skirt and Sonia Top from one wedding to the next, and check out the Prem Vest to make it a matching couple's outfit!
5. Paghs 
If lavender is not your color but you want to give it a little warmer touch, this turban will perfectly blend with all colors (or no colors) you wish to wear! 
Want to explore more? Check out our HK Viva Magenta & Digital Lavender collection!