HK Bride | Susan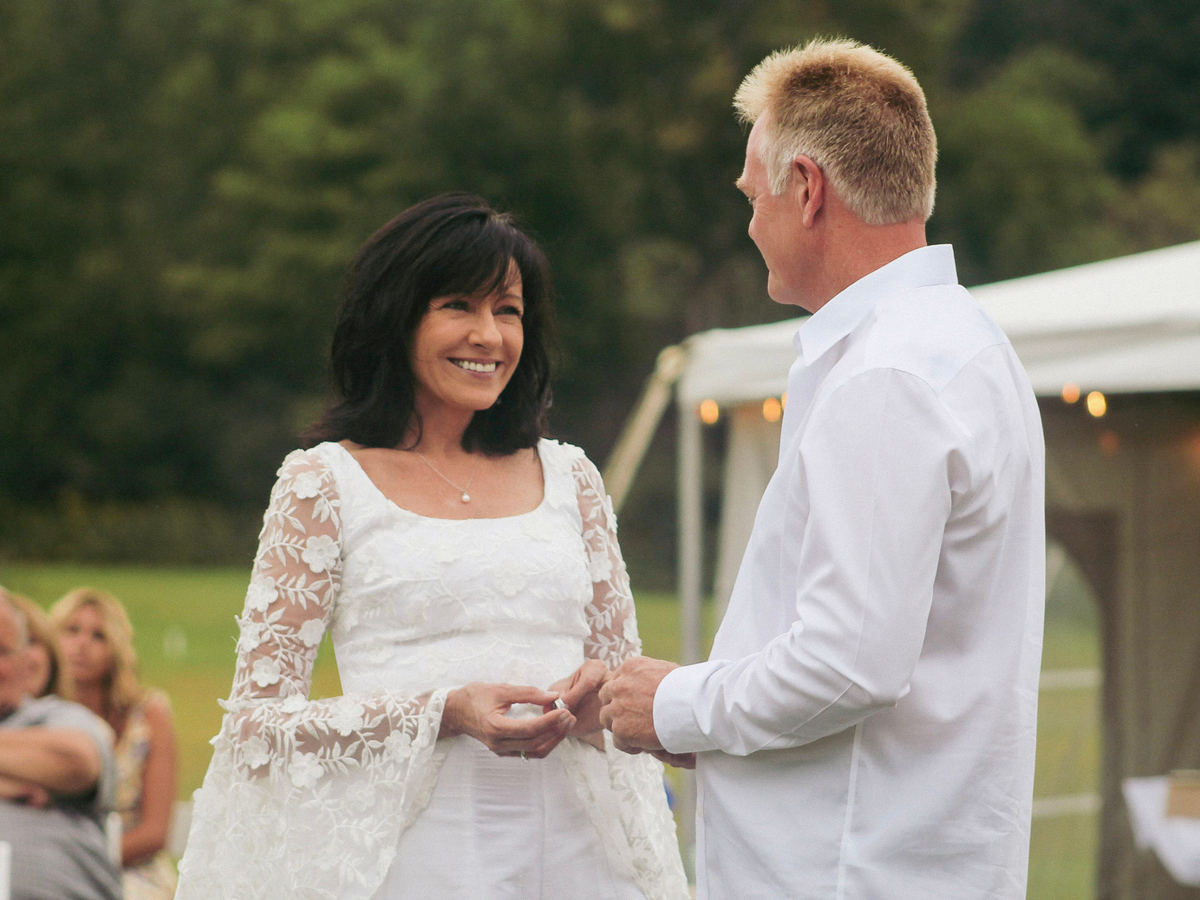 Susan in a Custom Floral Lace Top and Silk Skirt with Floral Trim
Last week I married a retired FDNY Search and Rescue fire fighter, but it was Harleen Kaur the NYC designer who came to my rescue after a 2-3 month search for that perfect dress. Like every other bride, I wanted one that said "me" when I put it on.
I had already done an exhaustive internet search for a simple white gown—a dress for the older, second time around bride, having an outdoor rustic wedding, I found nothing that even came close. I had been living upstate for the summer, 4 hours away from my Brooklyn home and easy access to the fashion offerings of our city. Most of the dresses I found online were either too formal or too simple, too expensive or quite cheap, many were of the worst quality imaginable—delivered and returned weekly by UPS.
I am fortunate to have grown up with a mother who is a skilled seamstress and who not only made my first wedding dress 20 years ago, but over the years, has made all the bridal and bridesmaid dresses for my sisters, nieces and my brother's daughter. (Sadly, she's since retired.) I am by no means an expert in fashion or design, but I do know quality and good workmanship.
I was starting to feel pretty anxious as our wedding day got closer...and then I remembered a beautiful red, silk wrap skirt I bought from a Thai boutique on the Lower East Side years ago. I thought, that's it...a raw silk skirt is what would be perfect for me! I did an Internet search and found Harleen Kaur's beautifully designed website with her gorgeous clothes.
I chose my bridal skirt almost immediately, a long, flowy white raw silk. The top was created with softer silk and lace using a prototype of one of Harleen's originals. I couldn't be happier. I love it. Everyone loved it. And it was exciting to bring a little bit of city fashion up to the country too!
My experience with the HK company was equally pleasing. Staff were courteous and professional, and so helpful in guiding me to what best suited my desire and body type. They were also sensitive to the demands of my timing ..and in a pandemic no less. I scheduled an initial consultation and drove down for a fitting with Harleen, herself. She was very gracious and encouraging as we made the final selections for her design. It was signed, sealed and delivered to my doorstep just in time. The wedding was beautiful, and I felt beautiful in it. 
Thank you Harleen, for making my day special by allowing me to feel special, wearing your beautiful clothes. I simply can't wait to come back and choose more from your incredible selection of designs, colors and fabrics ..now that I am able to expand beyond white!
With sincere gratitude and appreciation,
Susan Rios