What to Wear to an Indian Wedding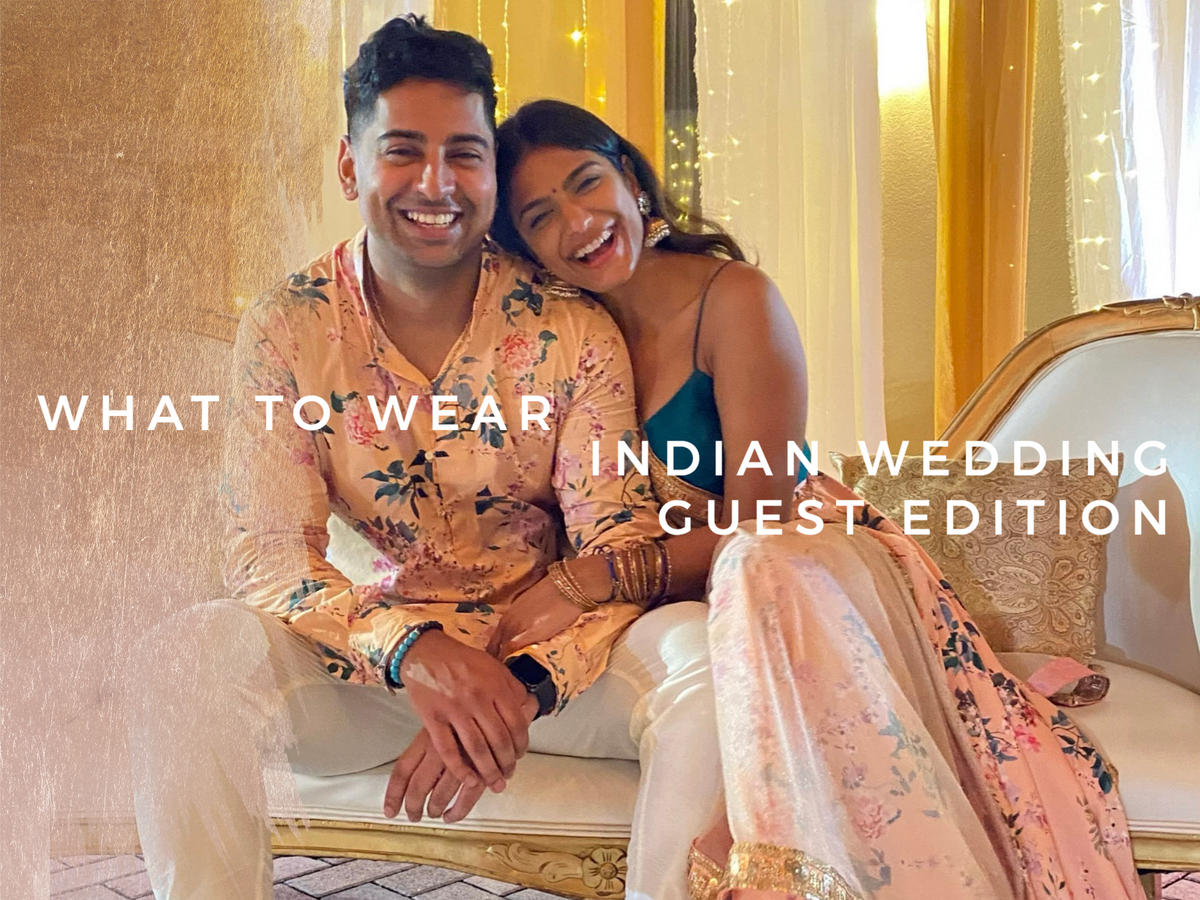 If you have never been to an Indian wedding or experienced the traditions, culture, and events firsthand, then shopping for it can be overwhelming! With all of the fabrics, colors, and silhouettes, it can be hard to know where to start and what looks are appropriate for which events. 
We put together the ultimate guide, including the most popular Indian wedding events and what outfits are appropriate for each but also handpicked a few fave versatile styles that are perfect for mixing and matching with each other or with garments already in your wardrobe! 
Follow along to see our top picks for What to Wear to an Indian Wedding as a Guest! 
Pithi/Haldi
The Haldi Ceremony is usually one of the first events. Needless to say, it is filled with tons of excitement and color (of course)! Choose fun and bright hues for this event, and try to stay away from any outfits that you cannot wash easily as the haldi can stain. This is typically a short daytime occasion, so kurtas and light lehengas would work great. 
Our Lehenga Pick: The SIMAR Cutout Top in white with the DEE Embroidered skirt makes a beautiful daytime look. You can even hand wash the Simar Top just in case you get any stains on it! Have a bright-colored skirt already in your closet? Choose the fuchsia or blueberry version of the top for a more colorful look instead.
Our Kurta Pick: The SUNNY Yellow Floral Kurta is a fun option perfect for any daytime event, especially a Haldi ceremony! Pair with blue, skinny denim for an effortless modern look, or choose the JEEVAN Egyptian Cotton Pants in neutral cream for a more traditional look. 
An added bonus: you can machine wash and hang dry the SUNNY kurta just in case you spill some of that delicious saag paneer on it! 
Mehendi
The mehendi event is usually a day or two before the actual wedding ceremony. Filled with tons of laughter and joy, this is definitely an event to remember!
The mehendi can be a daytime or nighttime event and is typically the most laidback of all the wedding events. Guests are encouraged to dress in bold, radiant colors and styles. If you plan to get your mehendi done, try to choose an easy and low-maintenance outfit because henna can get quite messy! 
Our Lehenga Pick: The ANEELA Neon Lehenga skirt paired with the fuschia or lime ZARI Crepe Top. This colorful combination creates a unique and fun look to give you comfort and ease glamorously! 
Want a more toned-down look? Pair the skirt with a neutral color crop top you already have (white, nude, blush) and throw a simple dupatta on with it for an equally fun but a little more understated look. 
Our Kurta Pick: The MANISH Floral Kurta. Perfect for almost any South Asian wedding event, but we especially love the red one for a mehendi night. Whether the mehendi is a day event or a night affair, you can easily pair this kurta with a pair of khakis or neutral pajama pants for a clean look. 
Sangeet
The Sangeet is always a huge event, so looking your best for this night is essential! Most people choose outfits that are a little heavier (i.e. embroidery, sequins, jacquards, etc.) since the Sangeet is one of the fancier evening parties. 
Expect any sangeet to be a huge celebration filled with amazing food, music, dance, and beautiful Indian outfits (of course)! Wear a lehenga skirt that flows beautifully as you twirl through the night or a sequin top that shimmers on the dance floor!
Our Lehenga Picks: The SONIA Silk top in white or wine paired with the NEELA Sequin Skirt in wine is a stunning combination for a night of singing and dancing. Styling this gorgeous sequin skirt with a solid top creates a classy and timeless look. 
Want something more bold and vibrant? Pair the KAIA Silk Top in evergreen with the MAYRA Sequin Skirt in Green and Pink instead! 
For another bold look: the ANKIT Floral Jacquard Vest is a stunner! With all the various colors, styling this intricate vest with a button-down dress shirt and a pair of slacks is a fresh evening Sangeet look! 
Wedding Ceremony
The Wedding Ceremony is usually the most traditional event. Incorporating a touch of tradition and culture in your outfit in a stylish way is ideal! 
During most South Asian wedding ceremonies, there are specific colors that guests should respectfully avoid wearing. Shades of red are usually reserved for the bride and groom for most (but not all) Indian wedding ceremonies so sticking to literally any other color is a safe bet. Some traditional couples also prefer that guests not wear black or white. It's always a good idea to check with the couple getting married before selecting your outfit. 
Our Lehenga Pick: The NADIA Top is a classic silhouette, available in a gorgeous mint pastel shade that pairs beautifully with the ARIANA Pastel Floral Skirt. This is a perfect Indian wedding guest look on its own, but if you want to elevate the outfit even more, drape a mint or lavender dupatta for that extra oomph.
Want a top that has a bit more sparkle? You can choose the TANIA Top instead in periwinkle or ivory! Or, find a different pastel top you already have in your closet! 
Want something to match with your significant other? Choose the NIK Wavy Jacquard Vest in periwinkle or mint. This gorgeous vest, paired with a cream button-down kurta and pajama pants, creates a stunning formal look perfect for any Indian wedding guest. 
Reception
Throughout most Indian cultures, the reception is the event that follows the wedding ceremony, usually taking place in the evening after the ceremony. This night is a beautiful celebration and commemorates the end of the wedding weekend. 
While the reception is filled with high emotions and great memories, the fashion is always on another level! This is the night you definitely want to look and feel your best and be comfortable enough to dance all night long. 
Our Lehenga Pick: The BARKHA Sequin One Shoulder Top styled with the MAYRA Striped Sequin Skirt in bright shades of pink, green, and gold is sure to be a showstopper! The unique one-shoulder top has a side cutout for that tasteful amount of skin to show. To really shine, drape the REYA Dupatta for a chic, over-the-top look.
Want something a bit heavier? Choose the PALLAVI Skirt and pair it with any black crop top in your closet or with our bold shoulder NAINA Top in Gold. 
Our Jacket Pick: a classic black blazer is always a safe choice for any evening event. The AMANDEEP Blazer Jacket is the perfect way to elevate your look for any formal occasion, especially an Indian wedding reception! The perfect mix of classic and contemporary, pair this jacket with black dress pants and a black button-up shirt to create an impressive, monochromatic reception look!
Have any questions, or need some help styling our items with pieces already in your wardrobe? Email our team at info@harleenkaur.us and we'd be happy to help!