Top 5 Hot Girl Summer Outfit Ideas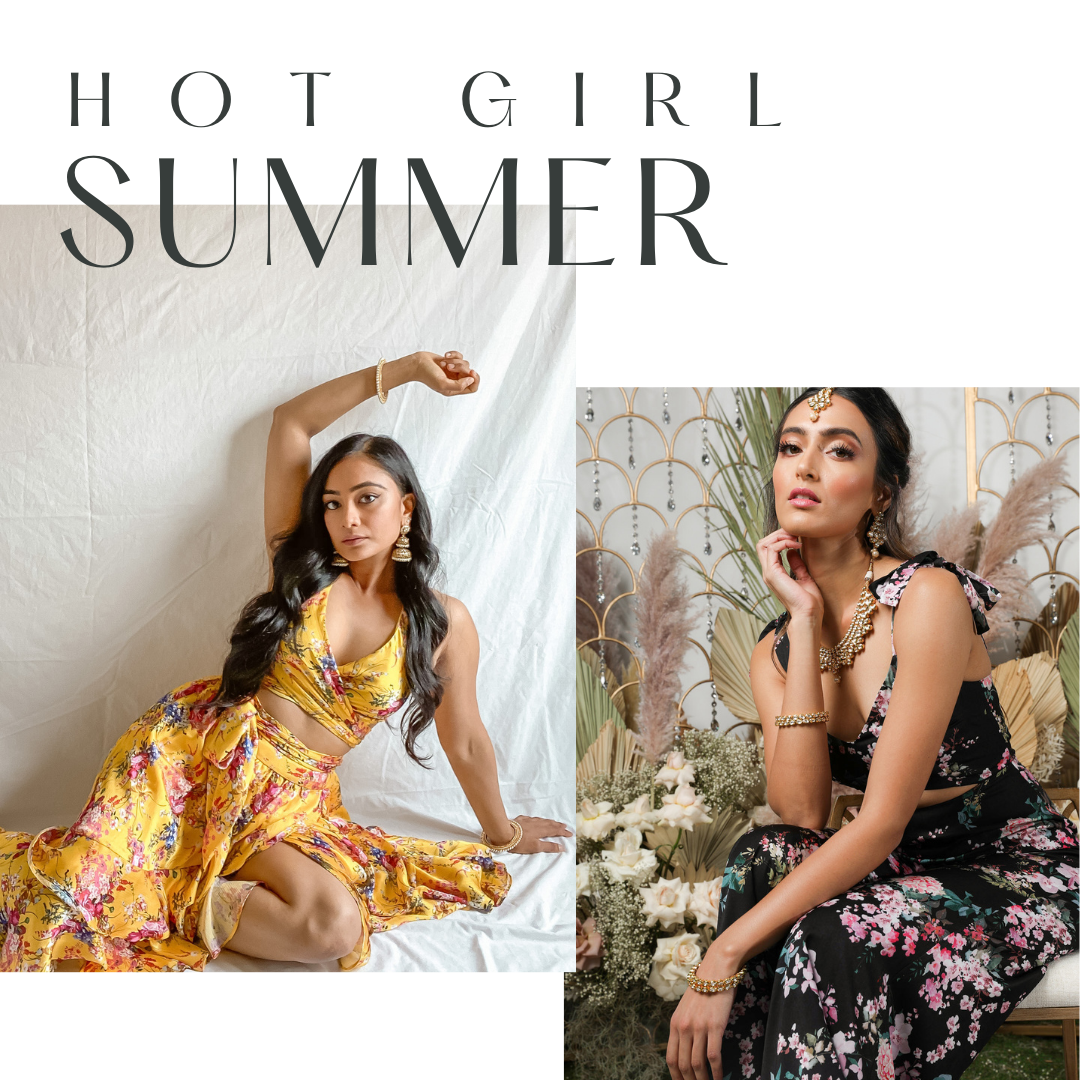 These are our hot picks this summer for you to dazzle everyone wherever you go. Our versatile pieces can be styled for a destination wedding, South Asian festivities and for even just brunch with the girls. Our bright floral prints create the perfect balance for a fun, flirty and statement look! Continue reading this while thinking of us as your personal stylist! 
CAMILE Floral Tie Back Crop Top and CARLEIGH Floral Ruffle Hi-Lo Skirt
This vibrant floral combination is ideal for a destination wedding, tropical vacation, or for a mehndi summer event. The bottom is a high-waisted low-crop lehenga skirt with a waist tie that can be styled in different manners. The two-layered ruffles at the bottom of the skirt add flared volume which pairs wonderfully with the lightweight back tie crop top. These pieces come in vibrant blue and yellow with different styles! 
 ELENA Metallic Lime Chiffon Top and ANEELA NEON Skirt
The ANEELA neon lehenga skirts create an impactful look when paired with a bright top such as the Elena lime chiffon top for a vibrant summer look. The skirt is extremely versatile as it can go well with a wide array of tops of any color The gold metallic threads in the top complement the shimmery details of the skirt very well, as does the ruched style of the top when contrasted with the straight fall of the skirt. This combination is perfect for a daytime event or a mehndi.
ARYA Metallic Hearts Cotton Top and DIVYA silk skirt 
How cute is our metallic hearts top! This top would look good paired with a colorful bottom like the Divya silk skirt which comes in many different shades, perfect for a summer evening event adding that vibrant pop of color. It can even be worn with our metallic hearts skirt completing the set. The print of the top is timeless and trendy which allows it to work with so many different styles! 
SOPHIA Jumpsuit
This summer jazz it up with our Sophia Jumpsuit, it comes with straps that can be tied into bows or however preferred, it looks so dainty and the exposed midriff area is an even better touch for a fun, floral and feminine look. This jumpsuit comes in three shades, pistachio, black and peach, that work for any occasion as you can dress it up or down with accessories! 
GEMMA Tiered cotton dress 
The Gemma dress is a gem of a piece to have in your wardrobe and a staple! This dress is so versatile and could be dressed up or down based on any occasion and there's four different colors to choose from. The Periwinkle or Ivory Gemma dress are perfect for a daytime event, style it with a leather jacket and some boots to make a statement. The Red and Black colors would look great during the evening or night, accessorize your look with some jewelry and a clutch. The dress is a statement piece to have in itself and because these are so fun and vibrant, you're guaranteed to light up any room you walk in.