Top 5 Floral Kurtas to Wear this Summer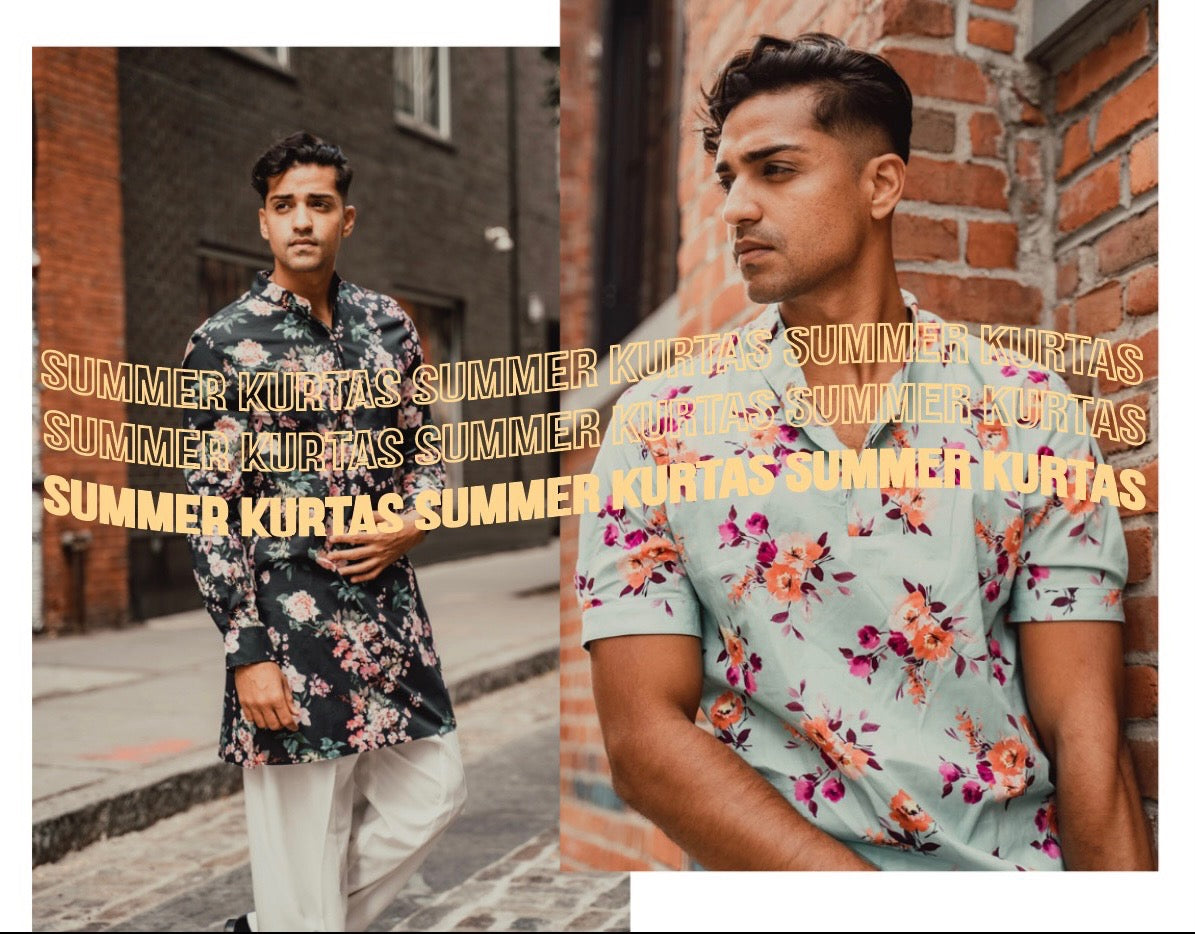 Our top 5 floral print kurtas to liven up any festivity, from a South Asian wedding weekend to a casual beach dinner! Designed in comfortable lightweight cottons to keep the party going til 6 in the morning, we're picking our favorite floral print shirts for this summer! Did someone say destination wedding? Keep reading for our favorite kurtas to beat the heat in! 
for a summer wedding, backyard picnic, vacation getaway, or anything that comes your way!
This floral print kurta is a staple. With a more tropical style floral design, this print features so many colors that. This shirt comes in 3 different base colors–Navy, Lime Green, and White–each with a uniquely different color scheme. Choose the navy or white for a more sophisticated look for an Indian wedding ceremony, or choose the lime for a mehendi or sangeet night! Pair the lime floral with our cotton pajama pants or even a pair of linen pants for a light and airy destination wedding look, or choose a pair of silk pajama pants and a stole to drape over your shoulder for those Maharaja vibes. 
Move over tie-dye, this cotton candy floral print brings all the summer hues in white, pink, and light blue accents. Tuck this classic button-down shirt into some dress pants and throw a blazer on top for a formal look that's perfect for an Indian wedding reception. Staying state-side for a South Asian wedding instead? Pair this with some solid color pajama pants and a bandi vest for that perfect polished look. Don't forget to pack this lightweight kurta on your next vacation to wear with some khaki shorts, sipping drinks by the pool! 
Hello rooftop season! Ditch the sleeves with this half-sleeve floral shirt in mint or grey. The metal button closure adds the perfect amount of bling to this stretch cotton kurta. Featuring orange and fuchsia flowers throughout, this kurta can be dressed up for a Hindu or Sikh wedding ceremony, or dressed down for a sangeet or mehendi night. Or, pull this shirt over with a pair of shorts for a casual look all summer long. 
Step your floral kurta game up a notch in this embroidered floral kurta. This eyelet cotton is a bit heavier than our traditional floral cotton kurtas, but small eyelets in the fabric give you that perfect amount of breathability when you're in this kurta. The perfect choice for those of you that love black, the embroidered flowers in green, red and yellow add the perfect pop of color needed for any Indian wedding event. 
Fifth: The SUNNY Floral Shirt | Off-Duty Florals
The name of this kurta says it all. Choose from two different colors for all the sunny days ahead this summer. Stand out from the wedding crowd in the yellow floral version of this kurta with a pair of neutral pajama pants, or add a bandi vest to this outfit for your sangeet if you're the groom. Need a color that's a bit more subtle? Go for the blue floral version which features shades of red and magenta for a more cool, subdued floral vibe. 
Need a floral kurta ASAP? Check out our ready-to-ship section!