Top 4 Bridal Mehndi Tips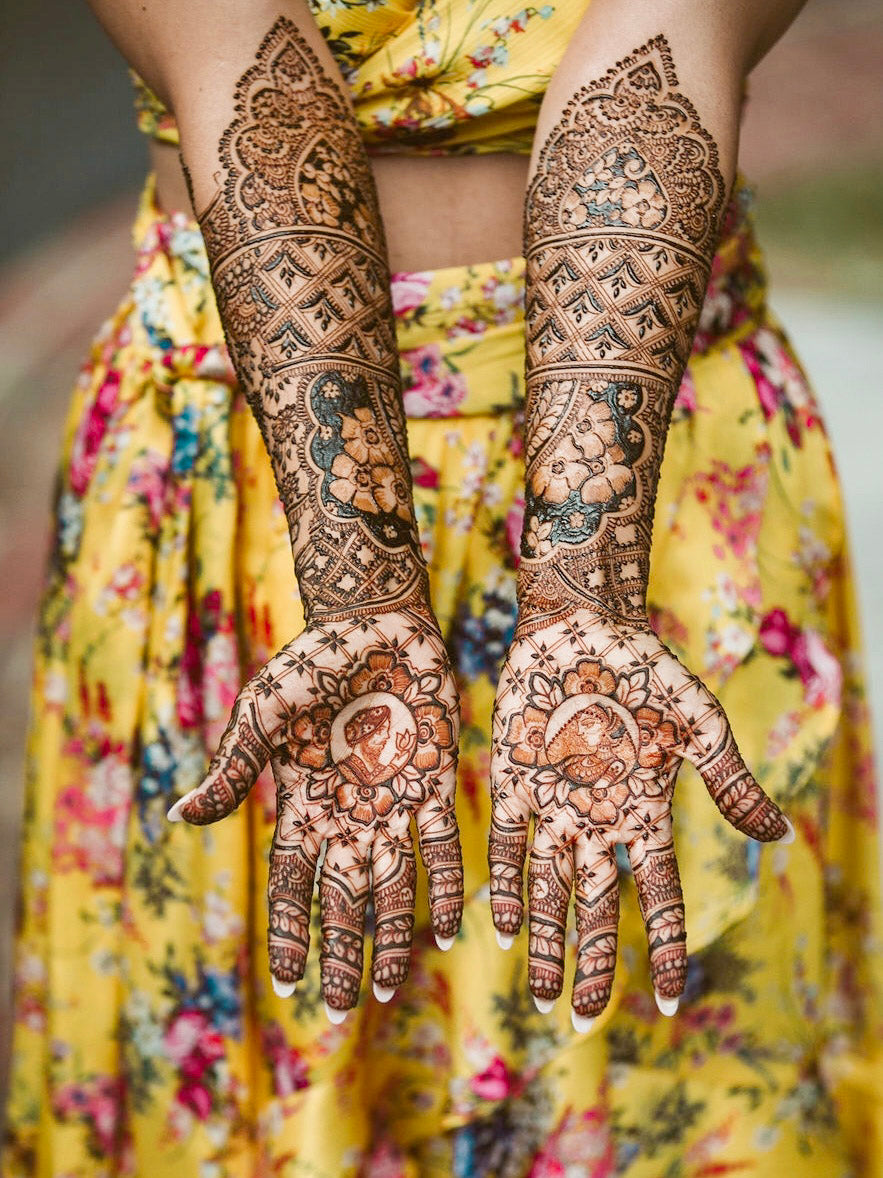 We know what you're thinking, 
cue "mehndi laga ke rakhna" for this one DJ!
A South Asian wedding weekend is filled with joy and celebration for everyone in attendance! From traditional pre-wedding ceremonies, to dancing the night away on the dancefloor, every day is a momentous occasion. 
The mehndi usually falls a day or two before the wedding day, typically an evening affair that's a little more casual than the ceremonies to come. The bridal mehendi symbolizes wishes for the bride's good health and prosperity. In more recent times, mehendi incorporates more beautiful ornate designs that can depict a couple's journey together. Filled with personal touches and carefully curated strokes, a bride's mehendi is a one-of-a-kind masterpiece!
This long (sometimes 10-hour) day of getting drawn on from your hands and arms, down to your feet and ankles can sound overwhelming for any bride-to-be. So to help quell some of that stress, we're sharing a few of our top tips to help you get through this very long day from #HKBride, Harleen!
Tip #1: Relax, Don't Do It.
With hectic schedules and the wedding day being just a day or two away, relax and enjoy not having to run around for a bit. Mehndi not only looks beautiful, but also acts as a de-stressor and can calm your nerves! The herbs and essential oils used in mehendi are actually really relaxing and if you allow yourself to take it all in and just relax, it can really be a blissful experience. Since a bride's mehendi can take anywhere from 6 to 10 hours, enjoy the experience while you can by just savoring the moment. Hand your phone to someone else to answer for a bit, and take the time to close your eyes and enjoy the silence or turn on some music to mellow out to. Think of it as "me time" spa day!
Tip #2: In Good Company
Always have someone around to keep you company. Whether it be your best friend feeding you or your mother holding your dress up while you use the bathroom, you always want to have someone by your side. I had one of my best friends, Jessica, there for the whole day with me. We caught up and just relaxed after her cross-country flight in from California. Sitting in one place for a couple of hours will feel like forever until you can move your hands and feet again. Chit-chat with those around you and enjoy all the love in the air! 
Tip #3: Nailed It
Watch out for your beautiful mani! As much as you want to flash your beautiful nails, be careful of light colors as henna can easily stain. Shades of white, light pinks, or neutrals take on the stain noticeably. If that sounds anxiety inducing, try a darker metallic color that stands out. You could never go wrong with scarlet red, forest green, or a nice bright pink!
Tip #4: The Darker The Berry, The Sweeter The Juice
Want your mehendi to stay on longer and look darker? Keep the mehendi on overnight, but be ready for an uncomfortable night of sleep. Grab a few of your bridesmaids to have them help you get ready for bed. Take a few minutes after your mehendi is dry to spray the lemon-sugar spray on that most artists give you. Wrap your hands and feet with some gauze, or tissue that's not too soft to keep your henna, take plastic bags and tie them loosely, but securely around your hands and feet so that you don't wake up with henna stuck to your face! Make sure you take off the mehendi the next morning by gently picking it off and using oil where needed. 
Bonus Tip:
Keep the outfit comfortable and light!
Sitting around for long periods of time in the wrong lehenga can be a nightmare. Check out the Camile Top and Carleigh Hi-Lo Wrap Skirt for a light, breezy vibe or any of our sleeveless tops with zips or ties in the back to be able to easily remove them at the end of the night. Choose one of our midi or hi-lo skirts so that you don't have to pin up your skirt while you're getting everything done.  To customize something in a different color, or to work with us on designing something new, book a virtual consultation today!
Have any mehndi tips or want to share your mehndi experience from your wedding weekend? Share with us in the comments below!
Love,
Team HK!