An Enchanted Pair: Matching Bride & Groom Outfits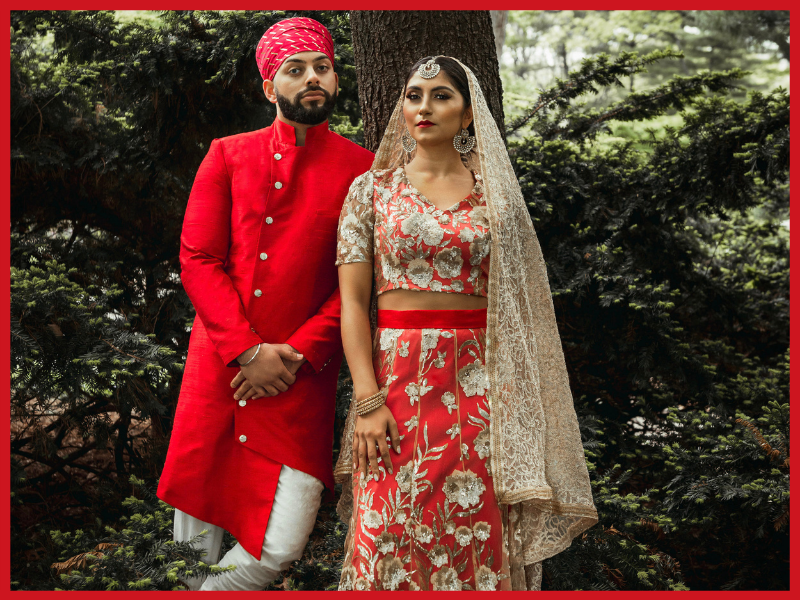 The season of love hasn't quit on us yet. Come away with us, far far away to a magical place where everything lights up the room. Turning the fairytale classic into a magical enchanted South Asian affair. Let your hearts run wild in sequin lehengas and silk sherwanis fit for a boho queen and king!
The Sanya and the Divya
Twirl with ease in a high waisted skirt and short sleeve top lined in a bold red. This bridal lehenga is designed with gold sequin flowers throughout to let you shine and be the star of your own show. The Sanya top is unlined at the sleeves to add some more floral bling to your gorgeous mendhi'd arms. This modern bridal lehenga can be worn for years to come after your big day. Add this red and gold blouse to a saree outfit and style the divya skirt with a solid crop top and simple dupatta for any formal event! Want a less subtle color for your big day? These items are completely customizable in any color you'd like.
Shop this look: 
Sanya Top / Divya Skirt
The Brar Jacket
Smooth in silk, this asymmetrical sherwani is bold enough to take on any event from your wedding day, reception night, or a classy street style look! Style this modern sherwani with a pagh, pajama pants, and some stunning juttis for any formal, South Asian event and then turn it into a street style look with denim, a casual shirt, a little bit of bling, and your favorite kicks.
The Sonia and the Neela Skirt
Celebrate in this simple, yet sparkly lehenga outfit. The Sonia top is made in a beautiful raw silk and lined in satin, designed without sleeves so you can party until the sun comes up! Styled with the high waisted modern black Neela lehenga skirt filled with floral embroidery and sequin details. Style these pieces together with a black dupatta for the ultimate South Asian reception look or swap one of these indowestern pieces for something that's already in your closet for a truly unique look!
Shop this look: Sonia Top / Neela Skirt
The Veer Jacket
Liven up the party in this metallic sherwani. The navy blue florals are placed strategically on this sherwani to make this an enlongating, flattering outfit for any Indian groom. Perfect for a more modern Indian groom look, or a South Asian black tie event, this sherwani is sure to get everyone's attention. Looking for a more traditional wedding color? This floral gold sherwani also comes in hot pink for the more classic Indian groom, or a beautiful aqua to contrast with your bride.
Looking for a custom piece or a bridal consultation?