What to Wear this Diwali & Holiday Season!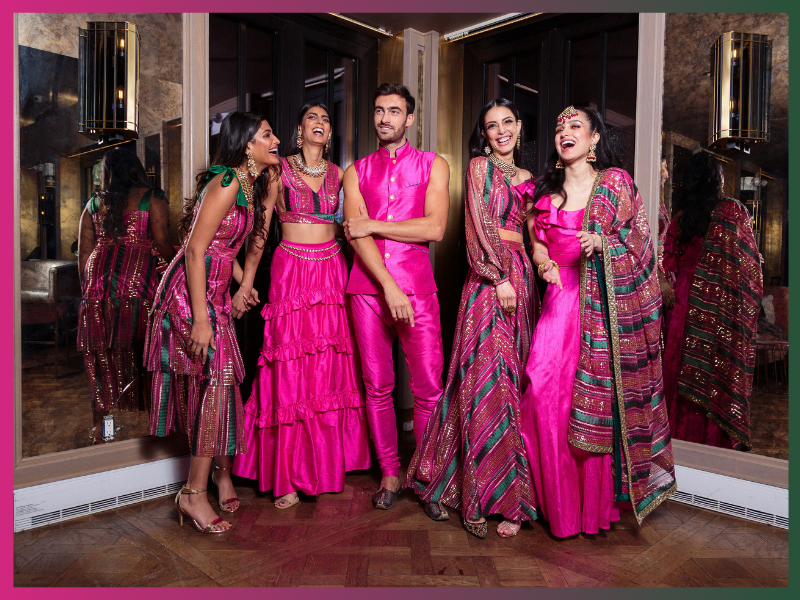 Holiday season always adds a special kind of magic in the air, and this year we could use that extra special magic a little more! Our celebrations might look a little different, but we're still finding a reason to get lit and dressed up in our favorite looks to add some cheer back to our days. Trade in your sweats for something that sparks a little more joy from metallic foil prints, to striped sequins, and gold jacquards to wear for Diwali, Thanksgiving, Christmas, New Years, and beyond!
Foil Prints That Won't Foil Your Plans
Find these comfortable Diwali-ready cotton prints in gold polkadots, silver polka-hearts, gold confetti, and gold diamonds. These lightweight cottons are perfect for dancing the night away or lighting some sparklers in the backyard! If you're looking for comfortable, yet stylish Diwali outfits, these are for you. Dress up these indowestern pieces for Navratri, Diwali, a reception, and so much more. With so many options in sleeveless and half sleeve crop tops, high waisted lehenga skirts, flowy dresses, kurtas, turbans, kidswear, and masks, you're sure to find the style that fits your taste! 
Our Latest and Littest
Sparkle and shine in striped sequins from the BARKHA crop top–a one shoulder top that will make you feel like a dancing queen–to the very versatile CHRISTINE crop top, MAYRA lehenga skirt, and REYA dupatta that will spark some much-needed joy! Not only are these bright and fun colors perfect for a Diwali outfit, but they make the ideal Indowestern look for a (virtual) holiday or New Year's event this winter too. Find these modern sequin pieces in three color options: white/silver, pink/periwinkle, and pink/green.
Light Up the Room in Beaded Striped Sequins!
Find this striped embroidered fabric in three comfortable lehenga styles. From the GILLY lehenga skirt to the flowy TANIA top or the short sleeve SANYA crop top, you'll be shining bright like a diamond. Customize these sparkly styles in a variety of colors for a more personal touch and wear for a South Asian wedding or New Year's with ease!
Flex on 'em with Gold Flecks.
The perfect pop of color to lighten up any room like a diya in vibrant golden yellow jacquards! With subtle hints of a gold metallic thread throughout, the KONA bandi vest and ZARI one shoulder crop top add the perfect amount of shimmer to celebrate any golden event, including any size celebration for Diwali. Have a Diwali event for work? Pair the ZARI top with a pair of high-waised pants and a blazer for a sophisticated, business casual Indowestern Diwali look! 
A Golden Lining in Geo Jacquards
If you love color as much as we do, but you are one of those "always wears black" people too,  our geo jacquard fabric is your new best friend. Designed with hints of yellows, reds, and blues with metallic gold threads throughout, it's the ideal chic Diwali look that can be worn year-round. Find this black and gold fabric in our kurtas, sherwanis, crop tops, lehengas, and jackets.
Looking for something with a few extra pockets? Check out the FARIA jacket–a jacket that has 4 spacious pockets to store all the essentials and more! Perfect for pairing with any work outfit to spice up your day with an Indowestern touch. Carry your wallet, phone, keys, mini sanitizer, and a lip balm with ease because we know you're constantly on the go. 
And, don't forget your mask! 
From New York City with love,
Happy Diwali + Bandi Chhor Divas
& Sal Mubarak / Nutan Varshabhinandan!