7 Matching Outfits for Everyone!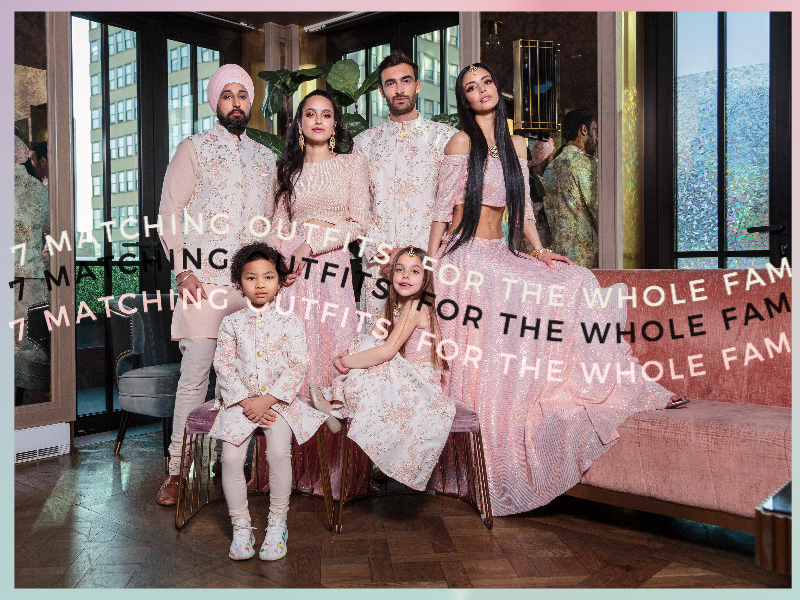 As a modern Indowestern brand, we at Harleen Kaur love some great outfit coordination. 
Not only are our coordinating pieces an element in our mission of sustainability, but they ensure that all of our customers, regardless of age and gender, are welcome to enjoy all of the gorgeous prints and fabrics we have to offer. 
Now we all know that when our moms bought matching outfits for us and our siblings, they weren't always the ones we would have chosen (if you also have a photo of the whole family in white turtlenecks with thematic sweatshirts on top, please commiserate in the comments). Thankfully, we carry a wide variety of fashionable coordinating outfits, including couples', Mommy-and-me outfits, and pieces for the whole squad! Whether you're a new mom who wants to match with your little one from head-to-toe, looking for some subtle Mother's Day date night coordination with your partner, or need that perfect couple's fit for the next big Indian wedding, we've got you covered!
Texture Mix
A great way to coordinate with your partner is to decide on a color you both want to wear, but not limit yourselves to a particular print or fabric. This way, you can both wear what is most comfortable for you. He wants a simple cotton pant, but you want to shine in metallic jacquard? No worries! If you stick to a monochrome look, you will leave a lot of room for play when it comes to texture. 
From left to right: the SUMAN Silk Kurta and  JAG Cotton Pant + the TANIA Striped Sequin Beaded Top and DEERA Wavy Jacquard Lehenga Skirt.
Go Hard or Go Home
Remember how we're really into going green? A great way to ensure that no fabric goes to waste and to make the most out of the fabric that's been produced, is to find multiple uses for it––or in this case: multiple styles. Don't be afraid to go bold and match your partner from head to toe! If you're weary of it being "too much," opt for a fresh, airy color palette like our Mint couple shown here. 
From left to right: the CHRISTINE Jacquard Top and DEERA Wavy Jacquard Lehenga Skirt + the BIREN Asymmetrical Jacquard Sherwani and JAG Cotton Pant.
Opposites Attract
They say opposites attract. You're extra and he's subdued. You want striped sequins from head-to-toe and he prefers a simpler approach. The good news is you can both coordinate with little compromise! Choose an ensemble as bold as you please, and have him pull a color of his choice to sport from top to bottom so you both shine!
From left to right, the BARKHA Sequin One Shoulder Top and MAYRA Striped Sequin Lehenga Skirt. + the ARJUN Silk Bandi Vest and JAG Silk Pant. 
Inverted Prints
Some of our prints are so lovely we couldn't bear to have them in just one color! If your Mother's Day celebration is a Mothers' Day celebration, what better way to show you're both the best of two halves than by rocking matching prints in complementary hues? Or, if you both have the same color preference, show it off in different silhouettes. 
From left to right: the EMMA Off-the-Shoulder Lehenga Top with CARLEIGH Floral Ruffle Hi-Lo Skirt, EMMA Off-the-Shoulder Lehenga Top with TAARA Floral Ruffle Lehenga Skirt, and CAMILE Floral Tie Back Crop Top with TAARA Floral Ruffle Lehenga Skirt.
Mommy and Me
Finally, a Mommy and Me set you can BOTH get on board with! A universally flattering wrap dress for mom meets a breezy, flutter sleeve dress for the little one. Just because you want to match doesn't mean either of you should have to sacrifice style! A great way to keep you both looking your best is a matching print in styles that fit your individual needs (goodbye universal turtlenecks and sweatshirts, hello floral prints). You'll be excited these knee-length dresses come in three colorways and she'll be excited it's comfortable enough to run around in, especially during those warmer days! We can't get over the versatility of these pieces, go from a picnic at home to a relaxing stroll in the park in the Spring, to a fun backyard luau.
From left to right: the SHANA Floral Blossom Dress + the NIRVAIR Floral Blossom Kids Dress.
*If you like this set, but your mini-me's not the dress type, check out our RYE Floral Blossom Kids Kurta.  
Two Peas in a Pod
Ok, they may not always act like "two peas in a pod," but at least they can look the part! Let's be real, the aspect kids care about most when it comes to clothes, is whether or not they can play in them––even if they are at a South Asian wedding. Our kidswear is made with the comfiest fabrics so your mini-mes can go on and keep having fun! From matching pink and gold outfits to fun cotton florals to twin in, your kids, nieces, nephews, and baby cousins can stay stylin' and express themselves. If one likes skirts and the other likes pants, try a coordinating skirt and sherwani combo to bridge the gap. Or: if our NIRVAIR dress would look too cute on both of them, check out the different colorways we have available! 
From left to right: the NILAH Iridescent Sequin Kids Top with VIENNA Floral Jacquard Kids Skirt + the TANVIR Floral Jacquard Kids Sherwani with ARI Kids Pajama Pant.  
The Gang's All Here!
The HK Gang that is! Have a favorite set from this post? Hit us up in the comments below! Want more suggestions and ideas for your coordinating endeavors? Check out the "Double Take" highlight on our Instagram for more styles or contact us for more recommendations.
Join us this weekend for Product of Culture's Virtual Mother's Day Pop-Up shop hosted by Payal Kadakia-Pujji! Tune into POC's IG Live and join us and several South Asian brands this Mother's Day weekend at www.productofculture.org for some special discounts so you can treat your mom a little extra this year! ;)