Going Green at Harleen Kaur!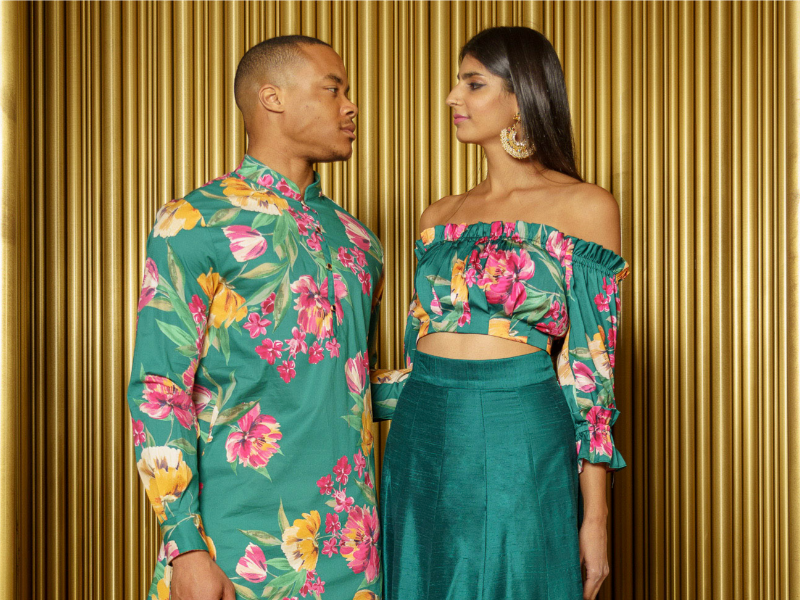 Celebrating Earth month by sharing all the ways we're going green as a company! 
We have always sought out eco-friendly, sustainable, and ethically sound methods of conducting business. It's no secret how fashion has contributed to various environmental and ethical issues throughout the years. From the 1900s with the Triangle Shirtwaist Factory Fire in New York to more recent years with the factory collapse in Bangladesh and the rapid growth of fast fashion, we have condoned unethical and unsustainable practices for far too long now. 
Finding solutions that are viable and affordable in today's world isn't an easy task, especially when it comes to Indian clothing. Brands and consumers need to change in tandem in order for us to really move the needle (pun intended). 
As a brand, we feel our job is to create clothing with longevity and purpose while ensuring that the hard workers behind the production of each garment are paid fairly in a safe environment. 
By implementing small batch production in NYC, using OEKO-Tex fabrics, and trying to source more sustainable alternatives to all of our fabrics, trims and packaging, we're moving towards more zero-waste practices. While these are baby steps, we're excited to keep expanding our business with more eco-conscious standards throughout the future, especially in an Indian fashion industry where sustainability and ethical practices aren't addressed often enough. 
Read below for details on all of our current initiatives and how we're doing what we can to make sustainable and eco-friendly Indian clothing. 
New York City's Garment District
New York City has one of the oldest garment districts in the country with an incredibly rich history!
We started the brand knowing we wanted to produce ethical and sustainable Indian clothing right here in New York, something that hadn't really been done thus far. We carefully selected factories that we saw were not only compliant with federal and local labor laws, but were doing their part to keep their workers happy and safe. By keeping production here locally, we have complete oversight throughout every step of the process and we're able to design ready-to-wear, custom and couture Indian clothing a lot quicker and more efficiently. All this while supporting local small businesses (factories, seamstresses, pattern makers, graders, etc.)! 
Small Batch Production
From the beginning, all of our clothing has been produced in small batches. From traditional Indian clothing, to more fusion Indowestern pieces, producing in limited quantities allows us to control the quality of the garments and to produce only what we anticipate the need to be. Since we do produce locally, our production time is quick and if we do run out of stock we can always place a re-order rather quickly, minimizing the need to hold too much stock and decreasing our overall waste in the long run.
OEKO-Tex
Sourcing sustainable and eco-friendly materials has always been at the forefront of our minds. We've been working hard to find sustainable items to offer in our collections without sacrificing quality, design or price. This year you can find multiple styles made from OEKO-Tex certified fabrics in STeP OEKO-Tex certified factories! From viscose derived from biodegradable wood pulp, to floral print cottons, and even some partially recycled cottons and polyesters, we're so excited to offer these new materials in crop tops, lehenga skirts, shirts, pants, dresses, turbans, dupattas, and more. 
What does OEKO-Tex mean?
Factories that make OEKO-Tex fabrics comply with certain standards that allow the end product or materials to be made without any harmful substances. A comprehensive test is done to ensure that the end product does not contain heavy metals, pesticides, allergenic dyes, and chemicals that can impact a person's overall health long term. 
What does STeP OEKO-Tex mean?
STeP by OEKO-Tex certifies that factories producing any textile and leather products are environmentally friendly. This certification ensures, among other things, the health and safety for workers, confirms that overall working conditions are good, and guarantees the factory is reducing wastewater and managing chemical and CO2 emissions.
Fabric Scraps
Cutting fabric can cause fabric scraps to accumulate very quickly and end up in landfills. Instead of discarding them, we are turning our scraps into pocket squares, headbands, (and more recently face masks!) to limit waste. We also donate scraps, headers, and old fabric rolls when we have the opportunity to do so. 
Packaging/Supplementary Marketing Material
We're finding more and more sustainable and recyclable packaging to use to ship orders to you all in! Currently, we are using EcoEnclose 100% recycled kraft mailers and boxes both made from post-consumer content and are naturally biodegradable and recyclable! Starting in May, we will be packaging each garment in packages that are made from Bio-Cassava and are both compostable and biodegradable. Unlike other compostable garment packaging bags out there, these bags contain no petroleum element and are non-toxic. 
Our 2020 collection features 100% recycled polyester brand labels--that black label that says HARLEEN KAUR on the inside of every garment. In June 2020, all of the hangtags that are on the outside of each garment will be made from 100% recycled paper as well. 
The thank you notes we've been using since last year are made from recycled paper embedded with seeds! You can plant the card under some soil and watch it grow into beautiful flowers to brighten your day! Share the love and detach a part of the card to send to a friend. 
Future
We have discovered so many new and innovative fabrics recently, thanks to all of the hard work of people who truly care about changing this industry. We're continually learning about new companies that offer creative alternatives to the fabrics we currently use, and more importantly, opening our eyes to the endless possibilities of organic materials we thought could never be turned into fabric. We can't wait to continue this journey with you all as we take the steps we can to make versatile, ethical, beautiful, and sustainable Indian clothing.