HK Pieces Comfy Enough for Quarantine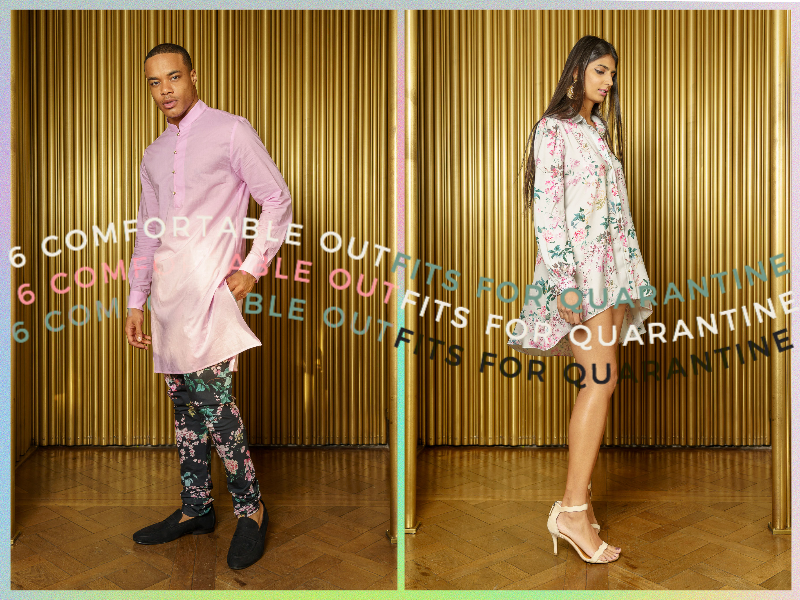 Over the past several months, everyone has been affected by the Coronavirus in some way. It seems that everything we do has come to revolve around this highly transferable virus, and our daily lives have been altered to focus on deterring its spread. 
At Harleen Kaur, we are hopeful that this "new normal" is only temporary, and that we'll be able to put this behind us someday soon. In the meantime, however, we hope you are finding ways to cope (and following CDC guidelines). Whether you're baking bread every week or tuning in to yoga sessions on IG live, we encourage you to do what's best for you -- don't shy away from the quarantine clichés! 
Some of you are on the front lines, treating the sick and stocking necessities, and others are doing their part by staying at home. Whichever category you are a part of, we want to share some of our pieces that we hope will make your days in isolation brighter and cozier. 
DEEPA Floral Blossom Dress
One of our absolute favorite pieces this season is our DEEPA Floral Blossom Dress. This flowy, hi-lo blouse dress is one of our eco-conscious styles, made in a super lightweight Oeko-Tex Certified Polyester*. French tuck it with your comfiest leggings, or wear alone with some fuzzy socks for a fashionable "Risky Business" vibe. Either way, the pistachio floral colorway will go perfectly with the cucumbers over your eyes during your next spa night in. 
*To learn more about our sustainable initiatives and Oeko-Tex certified fabrics, see our blog post about going green. 
HELENA Adjustable Slit Lehenga Skirt
Anything adjustable means optimal comfort in our book. Our HELENA Lehenga Skirt has buttons on the slit so that you can wear it as high or low as you prefer. This ankle-length piece is perfect to pair with your favorite t-shirt and curl up with a book, or feel the warm breeze on your legs on your daily walk (please, don't forget your mask). Finish your day with a date night in and simply trade your t-shirt for our SEERA Raw Silk Lehenga Top for a more dressed up look.
PINTO Stretch Crepe Pants
These pants had us at "stretch!" The cropped straight leg and pockets make this style totally universal, while the stretch crepe fabric keeps you from feeling restricted, even if you've been wearing sweatpants for 7 weeks straight. We recommend wearing these with a casual button down like our SAACHI Plaid Crop Top to make them ideal for back-to-back Zoom meetings.
PAVAN Geometric Kurta Shirt
100% cotton with a geometric print in shades of calming blue? Yes please! Our hip-length button down PAVAN kurta features a no fuss mandarin collar, and is perfect for the chillest days. You can wear it buttoned up and tucked in for a polished feel, or wear open over your softest v-neck tee. This new twist on a classic is sure to become your coolest closet staple!
JAY Floral Blossom Pants
Bring the outdoors in with this fresh take on the classic cotton pajama pant. Our JAY Floral Blossom Pants come in three colorways, all made with ultra-breathable 100% Oeko-Tex certified cotton. Pair with a sweatshirt or denim jacket for a relaxed look, or top it with your favorite kurta and matching KAZ turban for your friend's Zoom wedding!
RAAYA Classic Cotton Kurta Shirt
This season, we decided to give our RAAYA Classic Kurta a happy color update. This versatile, 100% cotton staple now comes in  a bright, gorgeous teal and a unique, sultry berry! The possibilities for this South Asian classic are legitimately endless, so rather than give our styling suggestions, tell us yours in the comments below!