5 Bridesmaid Lehengas To Set Your Wedding Apart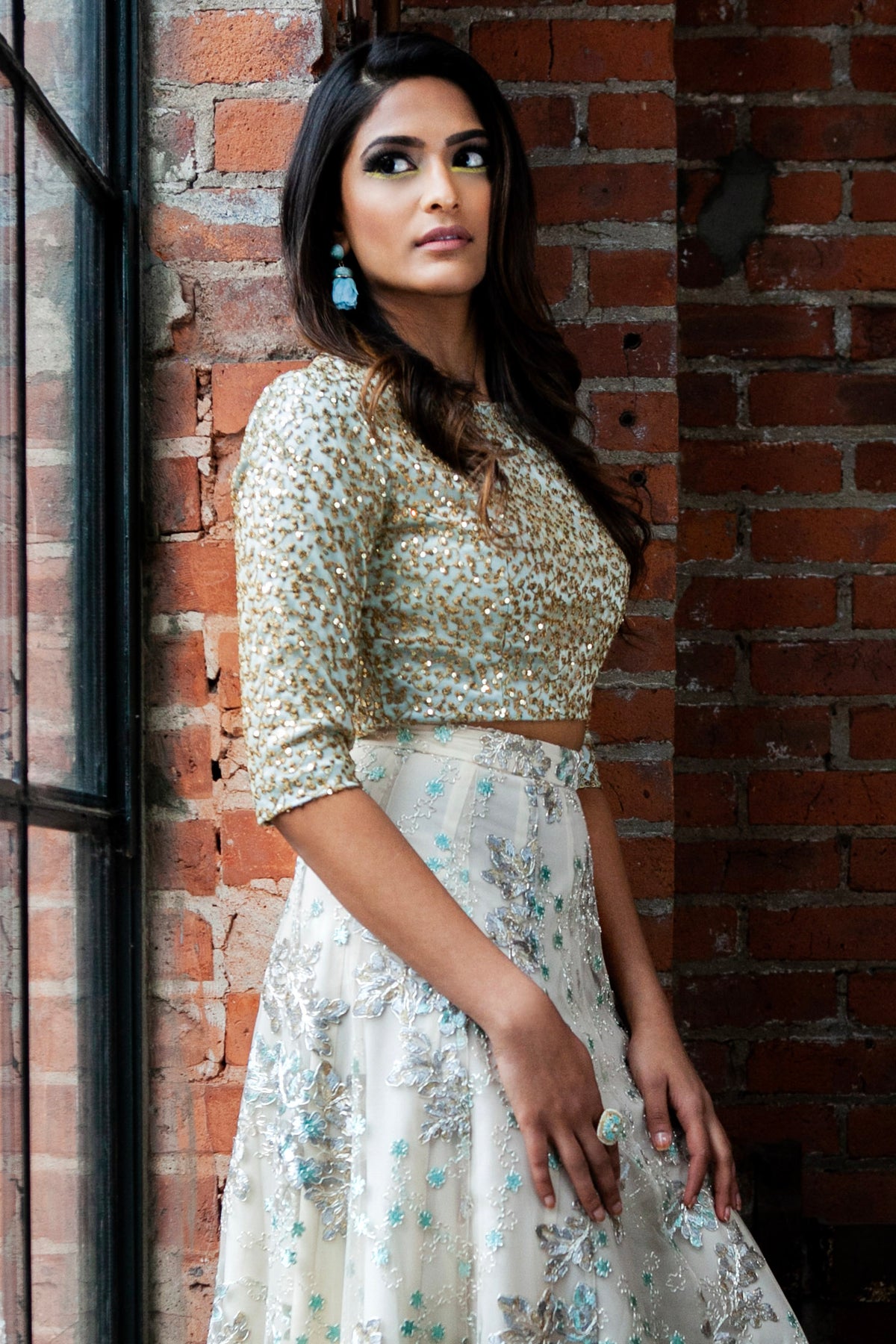 Indian weddings are known for color, fun and most importantly, The Entourage.
From 300-1000 guests, Indian weddings are known for a massive turn out. If you're in an Indian wedding party,  guests expect high end couture for the bride and bridesmaids.
As a bridesmaid preparing to celebrate your friend's wedding, one of your duties is to not only help her find the perfect
bridal lehenga in NYC
, but to help her choose the best outfits for the entire wedding party. Everyone needs to dress fashionably and beautifully to pull the entire wedding look together. And, what better place to start than with the bridesmaids? We've put together some of the best bridesmaid lehenga trends to help you make sure the outfits are just as unforgettable as the wedding.
The Trendy, Earthy Tones
One of our favorite bridesmaid lehenga trends is earthy tones. Natural and subtle tones allow bridesmaids to complement the bride effortlessly. Earthy tones play off of the deep reds and pinks that Indian brides traditionally wear.
Bridesmaids can look elegant and chic without taking away from the star of the show: the bride. Consider colors like subtle greens, blues and beige. Spice up a seemingly simple and elegant look by adorning yourself in some statement jewelry and
Indian-style clutches
. A truly chic and sophisticated Indian bridesmaid look from coast to coast, whether it's an NYC Indian wedding at a luxurious hotel, or an Indian wedding in LA at a resort.
Bright, Bright and more Bright Floral Prints
You know we're biased when it comes to florals, but this trend couldn't be more perfect for a bridesmaid lehenga. Floral patterns are the perfect way to set the bridal party apart at an Indian wedding. What could be better than a backdrop of all the bridesmaids in floral lehengas, surrounding the blushing bride? Floral lehengas add a modern twist to the traditional, more muted bridesmaid looks that are commonly seen.
Wether your bride is wearing a blush pink Lehenga, or a bright red anarkali, opt for skirts decorated in bright colors like orange or yellow. For a more delicate look, choose bridesmaid lehengas with pastel florals in peach or mint. Need help on which floral design to choose? You can always email us for recommendations and suggestions and we'll help you decide on the best floral style for your Indian bridal party outfits.
Sequins That Sparkle
Many modern bridesmaids choose lehengas that are covered in shimmering sequins. This bridesmaid lehenga idea allows you to stand out among the crowd for a more glamorous and classy look. This bridesmaid trend is perfect for a bride who loves glitz and glam and is going for a fully decked out wedding look. You can choose a more neutral color sequin, or opt for a more simple cut bridesmaid lehenga that is still stunning, but won't steal the spotlight from the bride. Forego the dupatta for the bridesmaid for an even more elegant and Indowestern bridesmaid look.
And don't forget the accessories! Choose to go minimal on the jewelry so you don't detract attention away from your Lehenga, but opt for an equally sparkling Indian clutch or bag to bring the whole look together.
Happy Shades Of Yellow
Another eye-catching color for a bridesmaid lehenga is an all-yellow-everything look.
Yellow is known to generate happiness and what better time to celebrate happiness than your friends wedding? A yellow lehenga is a great option for bridesmaids looking to brighten their friend's wedding day and is perfect for a vibrant beach wedding, or an Indian wedding in the summer.
Imagine how much happiness would fill the air when the entire Indian wedding entourage is in various shades of yellow! Choose a yellow floral lehenga to mix and match trends, or keep it simple with an all yellow lehenga in raw silk.
All That Glitters Ain't Sequins
Whether it's an NYC wedding or a destination wedding, we love the trend of a more subtle shine. Choose a fabric that's flecked with gold in a more subtle way than sequins (i.e. our many
foiled cotton options
). Elegant but not too over-the-top, these foiled cottons are the ideal bridesmaid lehengas.
Choose a vibrant shade of red for a more rebellious bridal party look, or opt for a subtle pale lime to bring in some of the earthy tone elements. Not only do these cotton lehengas make the most comfortable bridesmaid lehenga ever, but they're also versatile and uniquely designed to be able to dress up or down. Pair it with the matching crop for the harmonious bridesmaid look, and rewear the skirt with a more bedazzled top to your cousin's wedding a few months later.
Want to see all these bridesmaid trends and more in person? Whether you're a bride-to-be or a bridesmaid-to-be, finding an
Indian clothing designer
in NYC just got a whole lot easier. Let us help you style and design your entire wedding! Visit our new showroom in Midtown Manhattan to shop bridesmaid lehengas, bridal lehengas, and more starting in November of 2019.