How To Shop for Indian Bridal Wear In NYC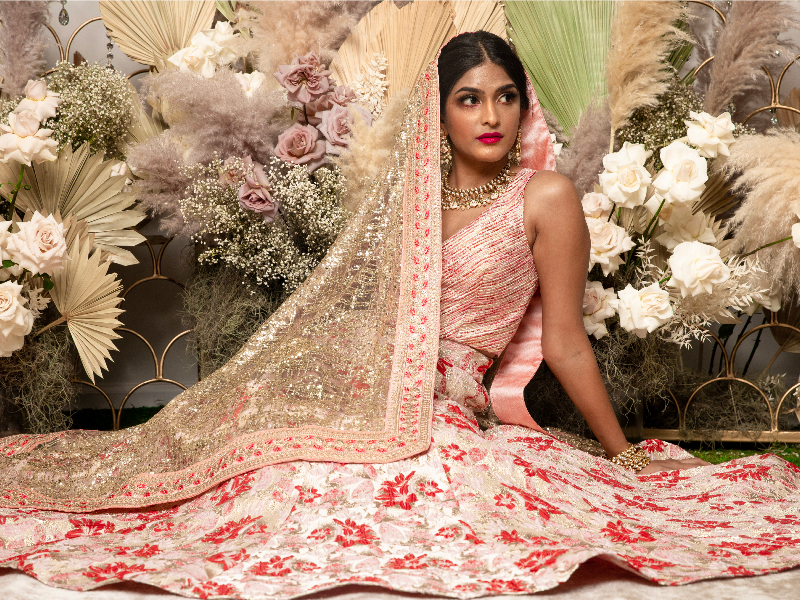 Indian weddings are full of family reunions, fun dances, the best food, lively colors, and most importantly, designer Indian bridal wear. Every soon-to-be bride in NYC dreams of walking towards the mandap in a beautifully-made, handcrafted lehenga. As a bride, you only want the highest quality Indian wedding outfits for everyone in your party. But finding outfits for your bridesmaids, groomsmen, and the groom can be difficult! Fortunately, we can create outfits for you and everyone in your wedding party, so the fun times never have to end! Not sure where to begin? Read below!
Bridal Lehengas
Whether you're a traditional Indian bride looking for a lehenga featuring bold reds and shiny golds or a more modern Indian bride searching for unique styles in vibrant colors, we can help you understand your style profile! Our lehengas are designed to be worn with ease. That means zero things poking at you from the inside, fabrics that you want to wear for longer than an hour, and pieces you can actually move and breathe in! Our pieces range from hand-sewn embroidered sequins to shiny jacquards to silk fabrics that combine quality along with a bit of a give and stretch! When you have to be up early in the morning, you should feel your best dressed in the best.
Bridesmaid Lehengas
After you find your perfect lehenga, search for the perfect bridesmaids designs. Consider the same factors: comfort, appearance, and material quality. Begin by choosing your ideal colors for your bridesmaids. Top picks include dusty pink, navy blue, and lavender. We can assist with creating styles that work for every shape and size for the wonderful ladies in your party. 
Crop tops and skirts from our collection can be altered slightly as an option or we can help you create custom outfits as another option if you're looking for specific colors and styles! Inquire about the materials used in Indian bridesmaid lehenga designs then, have your bridesmaids try on well-crafted clothing in the perfect colors. They can test out each lehenga's comfort levels and pick the best modern designs in NYC. 
Sherwanis
Additionally, shop for a sherwani for your soon-to-be husband. After all, it is his wedding too! Whether he lives for Indian wedding fashion like you or not, he needs the perfect attire for the big weekend. Similar to traditional brides' lehengas, grooms can choose to wear red on their wedding day or opt for a more unique approach and compliment you in a different hue. 
From traditional reds to modern pastels, look for a sherwani that does not skimp on the metallic details and unique styles. Look to see what the jackets are lined in and if there's a bit of a give in the fabric for optimal comfort! Our sherwanis include styles in champagne golds, pastels, vibrant pinks, metallics, asymmetrical cuts, and more!
Kurtas
Once the groom has a high-class sherwani that will make him feel like a king, shop kurta shirts, pajamas, and vests for groomsmen. While the groomsmen should never upstage the groom, they should be well-dressed as well. Some trending kurta shirts are neutral colored and made with quality cotton. Others are brightly colored in shades of blue and yellow. The latest trends, however, take floral design to a whole new level. Modern-day Indian groomsmen looking for fun alternatives to traditional kurtas usually opt for these designs.
Accessories
"Every bride loves her accessories." 
Finally, an Indian bride-to-be should never forget her accessories. Shop around for the perfect jewelry available from bold jewelry looks from The Pink Bazaar to fresh floral jewelry from Forty Clarendon to everything in between. 
When it comes to your fiance, search for the perfect turban to match his attire. Similarly, look for fun yet traditional turbans for the groomsmen. Compliment solid shirts or colorblocked outfits with a pop of pattern in floral print and geometric print! Or take a different approach and choose a cotton pagh with metallic polka-dots to complete the look. 
Our rule of thumb for any bride, groom, and wedding party looking for custom or altered pieces from our collection, start your search at least 3 - 4 months before your event. We would love to be a part of your wedding weekend! Email us at
info@harleenkaur.us
for a consultation or make an appointment to see our collection
in IRL.