NYC Street Style : Menswear Edition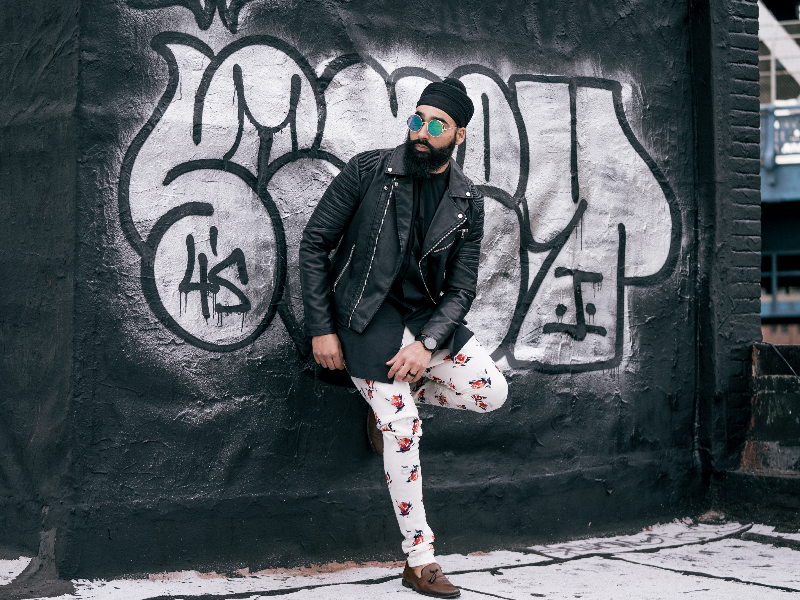 Ever wonder how to get the most out of your Indian clothes, especially when it's an investment? 

We got you! 

We're sharing our advice on re-styling your kurta pajama from a South Asian wedding weekend to a night out with your friends. 
New York City is filled with a revolving door of events. From pop-ups to bridal expos to fashion week to parties and openings, this city is truly alive 24/7. And, if you're South Asian, we're sure you have already been invited to a few Indian weddings, birthday parties, baby showers, anniversary parties, bridal showers, sangeets, and the list goes on…
We've listed our top 3 ways to style your floral pajama pants to get the most out of your South Asian wear this season below!
Workwear / Athleisure 
Aman in the JAG floral pants with a white tee, denim jacket, and MAHA turban.
Take your floral pajama pants from an sangeet outfit to casual wear in a few easy steps. Trade that kurta and vest in for a comfortable cotton tee and hoodie if you're planning to step out this winter. Switch your juttis with Timberlands, black high top converse, or your comfiest pair of sneakers for your busier days. 
Where to Wear?
An easy way to make your work outfit pop for those of you who sometimes work from a co-working space or a cafe and need to stay comfortable without compromising style, we get you. Plus, you never know when you could be meeting your next investor. #EntrepreneurLife
The Trail-Blazer
Vish giving us a classy take on men's South Asian streetwear in the VARUN pant and JEET kurta. A black shirt and white floral pajama pants styled with a dark red blazer and a statement chain to make this outfit pop. Add a pair of loafers or oxfords to round out this dapper look.
Where to Wear?
An evening pop-up, networking event, or celebratory event. You could even wear this Indian-inspired look to a bar or out with your friends in an elevated casual setting. The JEEVAN pants even have side pockets so you can fit a phone and a wallet easily! 
The Weekday to Weekend
Not feeling the blazer look? Switch it up with a moto jacket or a bomber jacket with a darker shirt. A black jacket adds a nice contrast to a pair of white floral print pants or any lighter-hued pants. Switch out the JEET kurta with a black sweatshirt or any long-sleeved black shirt of your choice for a colder day. Complete this look with a pair of sneakers.
Where to Wear?
A night out, a casual evening, or brunch.