4 Flowy Lehenga Outfit Ideas : Water Signs Edition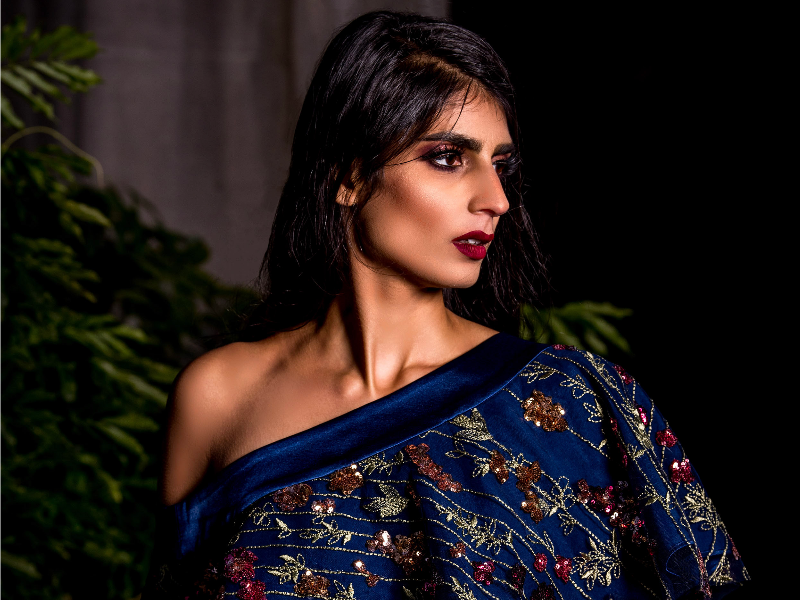 Hello to all you water signs. We're about to get real streamy with this post. 
We're sharing our favorite flowy and breezy Indowestern styles inspired by the ebb and flow nature of Cancer, Scorpio, and Pisces that will make you feel like you're on a beach somewhere far far away. Especially when South Asian weddings are involved. 
South Asian weddings can get very stressful very quickly, we get it. Take that water energy into these 4 crop tops we would pack to make any wedding weekend easier. We've got you covered from the mehndi outfit to the sangeet night, to the haldi events and finally to the reception! In order from: being excited to attend the wedding, to needing a vacation from the wedding weekend, to back to enjoying the wedding!
The MANVI Top – MEHNDI NIGHT/WELCOME DINNER
One of the more casual and messier events during a South Asian wedding, the mehndi night. Outside, there's dosas being slinged left and right, a woman is quickly producing a work of art on your hands, and you're walking on eggshells not to mess up the design. 
In a floral satin fabric, this top is the definition of effortless. If you don't want to go with the traditional lehenga look, style this flowy halter top with the high rise wide leg silk WIND pants so you have a place to put your phone for a while (if you're getting both hands done)! These light fabrics make it easily packable in your suitcase plus the airiness of the two will ensure you're comfortable all night long!
Even wedding guests need to de-stress from all those wedding events. All those days of waking up early just to get dressed and ready on time (even though pretty much everyone is still on IST). On top of that, then you have to see family friends and distant relatives you've only met once, never at all, or when you were a baby. Needless to say, we understand the struggle.
Oh, and EVERY event starts before noon. Why? AND/OR you have to drive an hour to the venue and it takes longer than usual because there's a hurricane happening at the same time as this wedding. True story–rained all weekend long, roads were flooded, and everyone's in saris and lehengas. It was a cold, wet mess but one we will never forget. Mother Nature does not play.
Fun fact: rain on your wedding day is supposed to be a sign of good luck.
We can't help you with the hair and make-up part, but we can help you get dressed ASAP and help you feel a little more comfortable and confident. Dressing for a haldi event or pithi event during a wedding isn't always easy. This strapless blue top for a spring or summer haldi or pithi event is the perfect amount of comfort and style. Literally just put on a skirt and dupatta (if you so choose) and you're done–an easy, flowy and floral lehenga! So easy that you can hit snooze while everyone else is panicking.
If you want to go without the dupatta and we suggest choosing a fun lehenga skirt like the metallic floral satin MILLY skirt. 
Stun in this all sequin top for an Indian sangeet night. Whether it's a traditional sangeet or a more modern sangeet, this top is the perfect choice. Designed in a flowy shape, you'll have room to breathe. Style this comfortable blue sequin crop top with a lehenga skirt. Try a skirt in blue for a monochromatic look or get vibrant with an orange or yellow silk skirt! 
Want to make a statement? Be bold and wear this sequin top for two events. Packing for weddings can be stress inducing. The less you need, the less you stress! Wear the TANIA top once for the sangeet and another time for the wedding! Switch the skirts out and add a dupatta for the wedding or style this multi-blue sequin top with a blue or gold sari!
It's the last event, finally! Let your hair down, enjoy cocktail hour, eat all you want at the reception, and dance, dance, dance!! What else would you do at an Indian wedding reception? You're done with the headaches of waking up early (unless you have to leave the next morning). This one shoulder sequin floral top gracefully drapes on the shoulder. Style it with the NEELA falling floral lehenga skirt or style it with a navy skirt already in your closet!